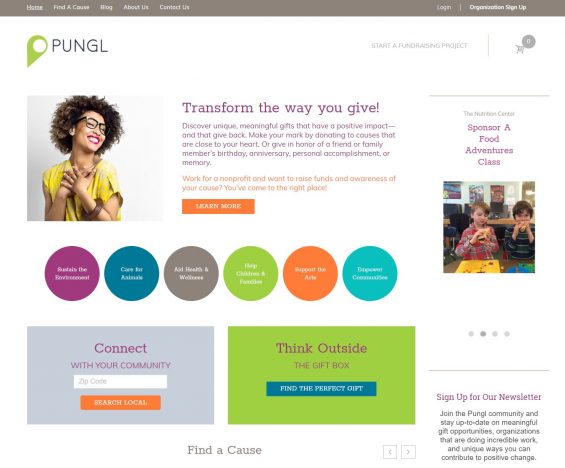 I've collaborated with the fantastic team at T Square Design on a variety of digital marketing projects, so when they called me about being the website copywriter for Pungl, a new fundraising platform they were developing, I knew it was a chance to be part of something special.
Pungl is the world's first online marketplace for charitable giving, where you can "shop" for causes that are important to you and your loved ones, then make a donation in your name or in honor of someone else.  The business has undergone a few changes since its inception, so we've had to keep an eye toward clearly explaining its evolution and functionality to the organizations who list fundraising projects there, and the generous donors who use their money to contribute toward positive change. We've also had to balance speaking to two distinct audiences: nonprofits and organizations who need to raise money, and people who are interested in shopping for meaningful gifts or ways to use their dollars to benefit others.
I also manage Pungl's social media presence and blog, and I look forward to seeing the shape it takes in the coming years, as more and more people discover what a terrific place Pungl is for those who don't want to just buy physical gifts, but also make a difference in the world.