Going to Ruin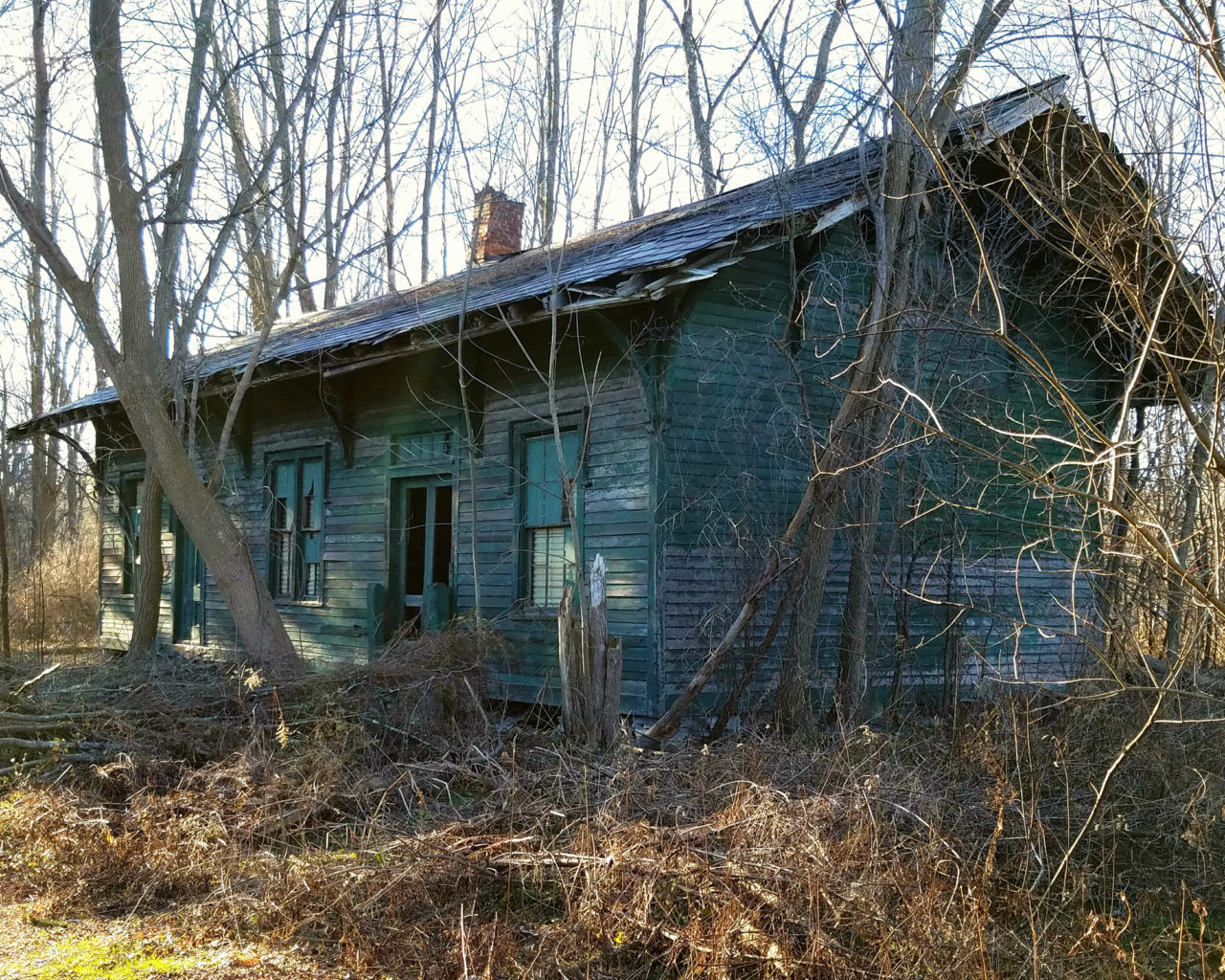 I've lived in my teeny-tiny rural upstate New York community, on the border of Stephentown and New Lebanon, for nearly 20 years—that still makes me a "newcomer," by the standards of the area's farm families—but this ruin escaped my attention until a friend pointed it out. To be fair, the ramshackle green structure sits, leaning and forgotten, between a two-room library, a barbecue joint, a residential trailer, and an auto-body shop on Tilden Lane, a short, dead-end street named for the town's once-booming and now also forgotten pharmaceutical company. You'd have to be looking for this Victorian era train station in order to find it. But once you do, its visage is hard to shake.
I may be something of a special case when it comes to my excitement over discovering a ruin for the first time—as a nerdy kid, I spent more hours with my nose pressed to the pages of books about shipwrecks and Pompeii than in most other pursuits combined, and took on a double major in anthropology as an undergrad. I've since been lucky enough to travel to Chichén Itzá and Tulúm in Mexico, and ancient cities like Athens, Rome, and Segovia in Europe, and I've gawked from train windows at the many crumbling castillos that dot the countryside of Spain.
But people and civilizations that have been lost to time—and ruins, their living testament—have captivated imaginations since the seventeenth century, and even inspired a "cult of melancholy collapse and picturesque rot" in 1700s England, with ruins featured in everything from artwork to home and garden design. What is it about them that speaks to us?
Ruins are, first and foremost, a mystery that force us to either dig for information to uncover their original intent, or, in the absence of historical documentation, encourage us to imagine a time and a life that once was—an archaeology of ideas, not just places. They teach us something about the past, and often make us more aware of, and perhaps even grateful for, our own existence in the moment.
But ruins also have an elegiac quality. They remind us how quickly time passes, how easily we can be forgotten, even when what we've created has managed to outlive us. They bring us face-to-decaying-face with our mortality, and the knowledge that no matter how groundbreaking a contribution we make, time is the great leveler of playing fields. In the end, no era, no moment of greatness, and no one lasts forever.
This small ruin in New Lebanon, which struggles against obscurity among discarded furniture and other household trash, weeds and prickly brush, and spindly trees that have been absorbing it for more than half a century, is hardly as imposing or grand as the Acropolis or Machu Picchu. It isn't an architectural marvel, and it doesn't pack a sweeping historic punch. But it does hint at a way of life that was once integral to the development of American cities, towns, and culture, and that disappeared—practically overnight—in the summer of 1953.
The New Lebanon Train Station was built as part of what ultimately became the Rutland Railroad's Chatham Division in the late 1860s. The Chatham Division, which connected Chatham, New York, to Bennington, Vermont, was beset by financial problems, reorganizations, and fits of stops and starts before it was finally completed around 1869. Much of this is recounted in the Tell-Tale Productions DVD Rutland Remnants 6: North Bennington, VT to Chatham, NY. (For the record, I recommend watching this two-hour-plus, low-rent yet lovingly produced DVD only to the most ardent railroad fans.)
This section of the railroad, nicknamed the Corkscrew for its 263 treacherous curves and sudden, steep grades, was mainly an agricultural freight rail, though it did offer passenger service between a handful of small stations in Columbia and Rensselaer counties. At its height in the early twentieth century, hundreds of residents used the New Lebanon station daily for transportation to and from commerce areas, work, and schools. Well-heeled tourists from New York City even strolled through its doors to enjoy the "country experience" and healing waters of nearby Lebanon Springs.
The Corkscrew turned out to be more trouble than it was worth. Frequent derailments, a lack of funding, and competing—and less dangerous—rail lines eventually led to elimination of the line's passenger service in 1931. Freight was discontinued in 1953. Stations were abandoned and rails were torn up in a few days' time, leaving raw soil, empty buildings, and various bits and pieces of railroad history littered across the upstate New York landscape.
These days, New Lebanon and most of the surrounding areas are the very definition of sleepy towns. They all possess variations on the same theme: a handful of stores, restaurants, and other businesses; a small school; an even smaller library; and a post office. Only the oldest of the old-timers remember the railroad and what it represented. The town hasn't done much to preserve its own history—as evidenced by the station, which is slowly collapsing inward on its own stone foundation. Only if you're out driving or walking and notice the occasional trestle, rail tie, or marker do you wonder what they were for. I suppose this is the natural order of things, but I can't escape that bit of melancholy that seeps in when I look at the station.
For me, this isn't a story about trains and railroads; several people and sites, like this one, have documented it better than I ever could. It's my own attempt to answer the question: If a once-important building falls prey to the vagaries of time and trees in the woods, and no one can be bothered to witness it, did the people and time it served ever really matter?
I'd like to think they do, and, by extension, I do, but the truth is that there's no way to prove it. Instead I've comforted myself with the knowledge that everything we do—and everything that has been done by the many nameless people before us—lays the groundwork for what comes next. In that way, pieces of all of us live on, even if we never know the effect we've had.
Maybe ruin is the wrong word; it implies destruction and collapse. What I see when I look at a crumbling medieval Spanish tower, a portion of Roman aqueduct, and, yes, even an 1800s train station standing alee against the trees is accomplishment, memory, a stamp in time that says, "I was here. Even though you never knew me, I made a difference."