Community Advocates: Chatham Cares 4U Gives Hope to Locals Struggling with Drug Addiction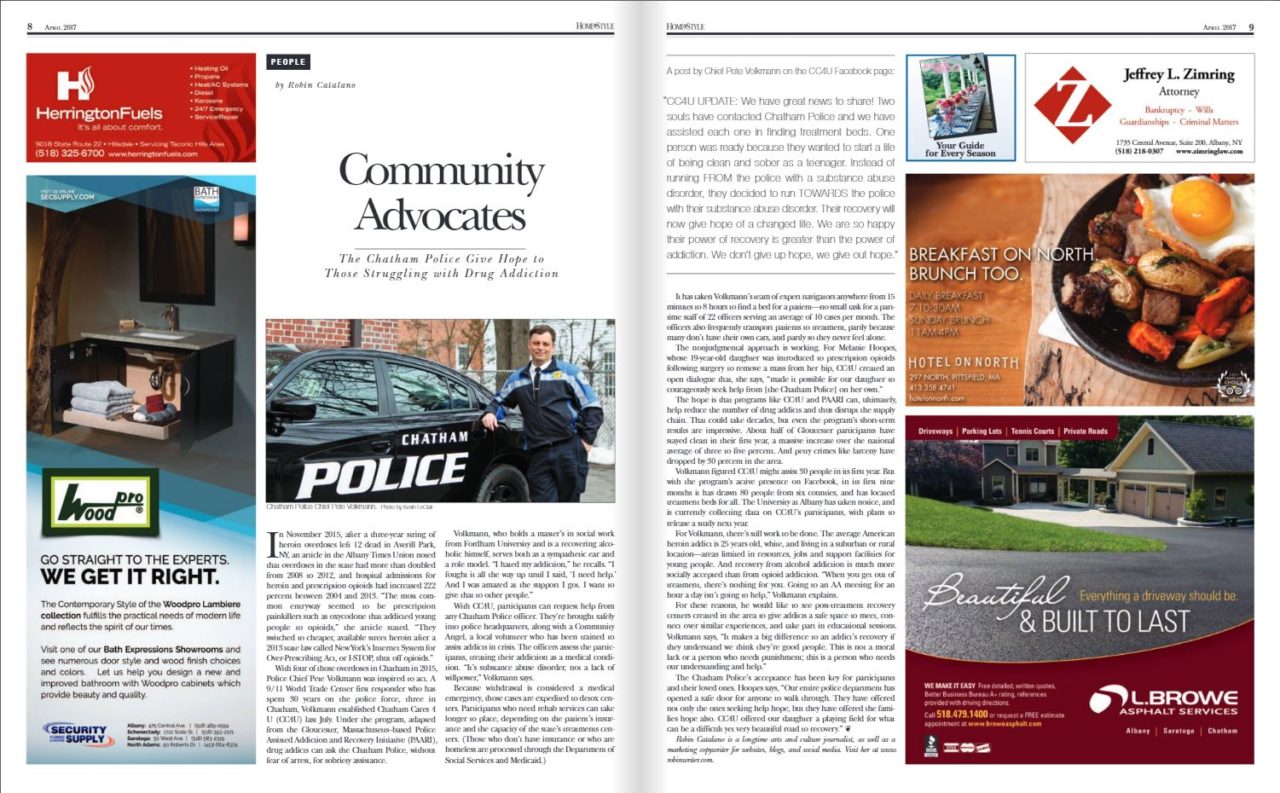 In November 2015, after a three-year string of heroin overdoses left 12 dead in Averill Park, New York, an article in the Albany Times-Union noted that overdoses in the state had more than doubled from 2008 to 2012, and hospital admissions for heroin and prescription opioids had increased 222 percent between 2004 and 2013. "The most common entryway seemed to be prescription painkillers such as oxycodone that addicted young people to opioids," the article stated. "They switched to cheaper, available street heroin after a 2013 state law called New York's Internet System for Over-Prescribing Act, or I-STOP, shut off opioids."
With four of those overdoses in Chatham in 2015, Police Chief Pete Volkmann was inspired to act. A 9/11 World Trade Center first responder who has spent 30 years on the police force, three in Chatham, Volkmann established Chatham Cares 4 U (CC4U) last July. Under the program, adapted from the Gloucester, Massachusetts–based Police Assisted Addiction and Recovery Initiative (PAARI), drug addicts can ask the Chatham Police, without fear of arrest, for sobriety assistance.
Volkmann, who holds a master's in social work from Fordham University and is a recovering alcoholic himself, serves both as a sympathetic ear and a role model. "I hated my addiction," he recalls. "I fought it all the way up until I said 'I need help.' And I was amazed at the support I got. I want to give that to other people."
With CC4U, participants can request help from any Chatham Police officer. They're brought safely into police headquarters, along with a Community Angel, a local volunteer who has been trained to assist addicts in crisis. The officers assess the participants, treating their addiction as a medical condition. "It's substance abuse disorder, not a lack of willpower," Volkmann says.
Because withdrawal is considered a medical emergency, those cases are expedited to detox centers. Participants who need rehab services can take longer to place, depending on the patient's insurance and the capacity of the state's treatments centers. (Those who don't have insurance or who are homeless are processed through the Department of Social Services and Medicaid.)
It has taken Volkmann's team of expert navigators anywhere from 15 minutes to 8 hours to find a bed for a patient—no small task for a part-time staff of 22 officers serving an average of 10 cases per month. The officers also frequently transport patients to treatment, partly because many don't have their own cars, and partly so they never feel alone.
The nonjudgmental approach is working. For Melanie Hoopes, whose 19-year-old daughter was introduced to prescription opioids following surgery to remove a mass from her hip, CC4U created an open dialogue that, she says, "made it possible for our daughter to courageously seek help from [the Chatham Police] on her own."
The hope is that programs like CC4U and PAARI can, ultimately, help reduce the number of drug addicts and thus disrupt the supply chain. That could take decades, but even the program's short-term results are impressive. About half of Gloucester participants have stayed clean in their first year, a massive increase over the national average of 3 to 5 percent. And petty crimes like larceny have dropped by 30 percent in the area.
Volkmann figured CC4U might assist 30 people in its first year. But with the program's active presence on Facebook, in its first nine months it has drawn 80 people from six counties, and has located treatment beds for all. The University of Albany has taken notice, and is currently collecting data on CC4U's participants, with plans to release a study next year.
For Volkmann, there's still work to be done. The average American heroin addict is 25 years old, white, and living in a suburban or rural location—areas limited in resources, jobs, and support facilities for young people. And recovery from alcohol addiction is much more socially accepted than from opioid addiction. "When you get out of treatment, there's nothing for you. Going to an AA meeting for an hour a day isn't going to help," Volkmann explains.
For these reasons, he would like to see post-treatment recovery centers created in the area to give addicts a safe space to meet, connect over similar experiences, and take part in educational sessions. Volkmann says, "It makes a big difference to an addict's recovery if they understand we think they're good people. This is not a moral lack or a person who needs punishment; this is a person who needs our understanding and help."
The Chatham Police's acceptance has been key for participants and their loved ones. Hoopes says, "Our entire police department has opened a safe door for anyone to walk through. They have offered not only the ones seeking help hope, but they have offered the families hope also. CC4U offered our daughter a playing field for what can be a difficult yet very beautiful road to recovery."
This story first appeared in the March 2017 issue of Berkshire HomeStyle.