Getting Spooky with Gothic Milwaukee's Haunted Walking Tour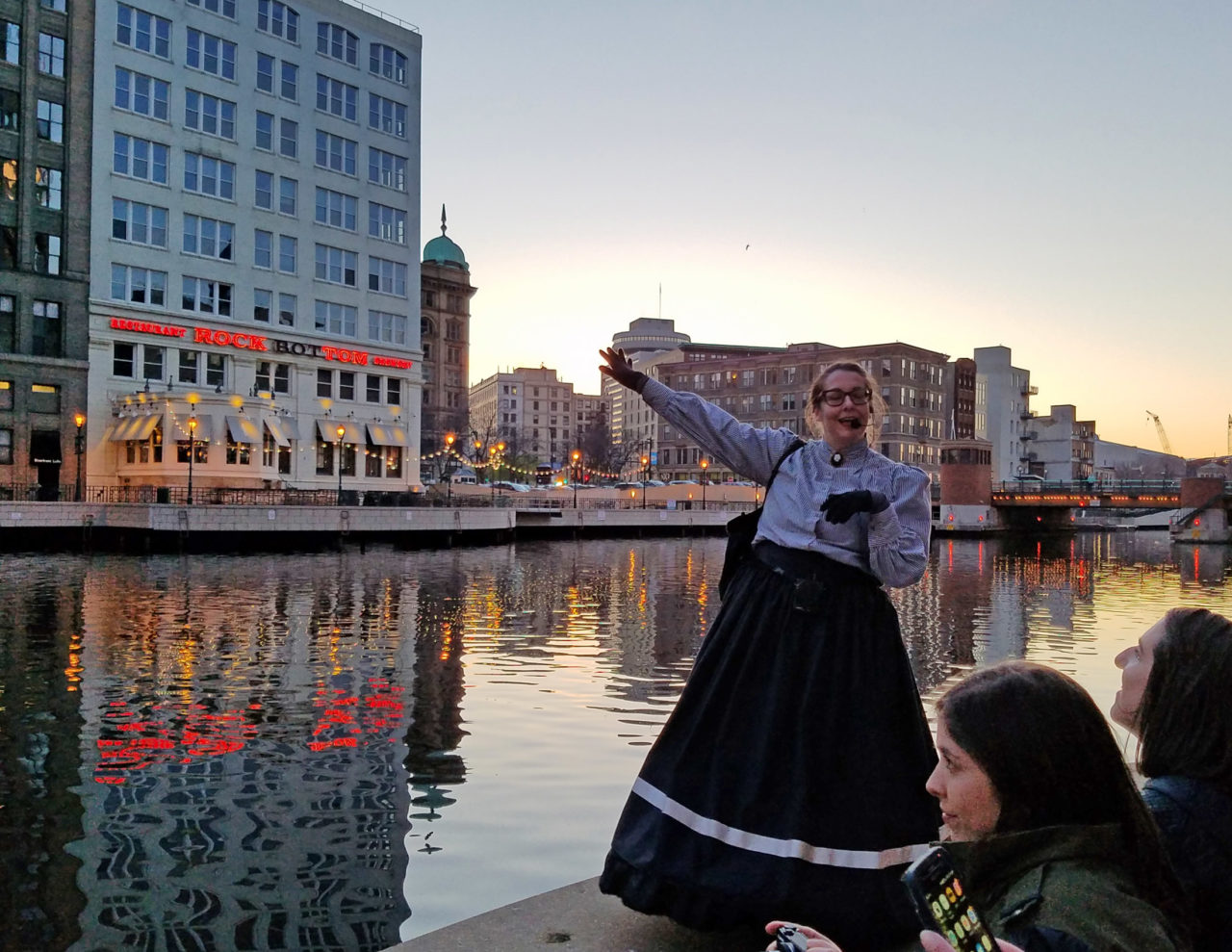 Although I spend a considerable chunk of my waking hours sitting cross-legged on my sofa, tapping out website and blog copy and devising content strategies on my laptop, I also regularly get out of my home office to speak at conferences and teach workshops. Usually, these speaking gigs are in interesting locations—New York City, Atlanta, LA, Palm Springs—which allows me to indulge my second and third loves, travel and culture. My most recent gig was at the 2017 Women in Travel Summit, and when I heard that this fantastic conference (really; sign up for the next one, stat) would be in Milwaukee, I'll admit that my reaction went a little something like this: womp-womp-womp.
But travel snobbery be damned: Milwaukee turned out to be an entertaining place to spend a few days. My favorite part of the trip was also the most unexpected: the Gothic Milwaukee Ghost Tour. 
Now, I love a good ghost movie—the kind that's actually scary, like The Changeling or El Orfanato, not cheap drivel like The Forest. But I've always shied away from ghost tours because, well, they're ghost tours. Read the reviews on Yelp and you'll find that most follow the same hokey-on-a-good-day, toilet-paper-in-the-waistband-embarrassing-on-a-bad-day formula.
But when a fellow WITS blogger invited me on Gothic Milwaukee's haunted walking tour, I figured, What the heck? I'd enjoyed the semi-spooky parts of the Seattle Underground Tour I went on a few years back;  I love to walk around, rather than drive, in cities that are new to me; and walking gives me another opportunity to scope out a good restaurant (my fourth love, in case you're counting).
So at 7:00 p.m. on a Thursday, I crested the hill to the corner of Jackson and Wells to meet our group and Victorian hoop skirt–clad tour guide Anna Lardinois. We'd hardly taken twenty steps before it became clear that Anna, a former schoolteacher who is also the creator/owner of Gothic Milwaukee, is an incredible repository of facts and trivia about her home city. She's also one hell of a wit, not to mention a born storyteller, and infused a few neck-prickling delights—not to mention heaps of personality—into stories about Milwaukee landmarks like the Pfister Hotel, the Riverwalk, City Hall, and the Cathedral of St. John the Evangelist.
From love affairs gone sour to an altar boy who went up in a blaze of glory while saving his precious hymnals, and cranky old bastards who continue their squabbles even beyond the grave, Gothic Milwaukee cherry-picked some of the most engaging stories from around the city. The tour also included some prime architectural eye candy, for those who aren't so much into ghostly mischief, but enjoy a good stroll-and-gawk at pretty buildings.
Did I mention that even the Bronze Fonz got in on the action? Here I am, basking in the glow of his eternal coolness.
In case you're wondering if this hunka-hunka burnin' metallic nostalgia is really number 19 of 168 things to do in Milwaukee, here's the evidence. 
Also, yes, he is pretty short.
As a nerd who adores costumes, historical trivia, and shipwrecks in equal measure, I especially loved Anna's detailed retelling of the sinking of the Lady Elgin, a sidewheel steamer that became the "Titanic of the Great Lakes" when it collided with a schooner and plunged more than 300 passengers to their icy-cold Lake Michigan graves in 1860. (For the real-deal historical announcement, check out the day-after report from the New York Times. Or see where the Lady Elgin now rests, 60 feet from the surface, in this dive around the wreck.) I'm not sure how Anna managed to pull off this bit with both meticulous detail and humor, but she did.
There's plenty more where that came from, and Anna offers other types of ghost tours, so the next time you're in Milwaukee, make sure you book your tickets for one of Gothic Milwaukee's walking tours. Unless you hate beautiful architecture, history, ghost tales, or walking, or all four, it'll be 90 minutes of pure enjoyment that will keep you laughing all the way back home.