Across the YOUniverse: Women's March Protest Signs Transformed into Art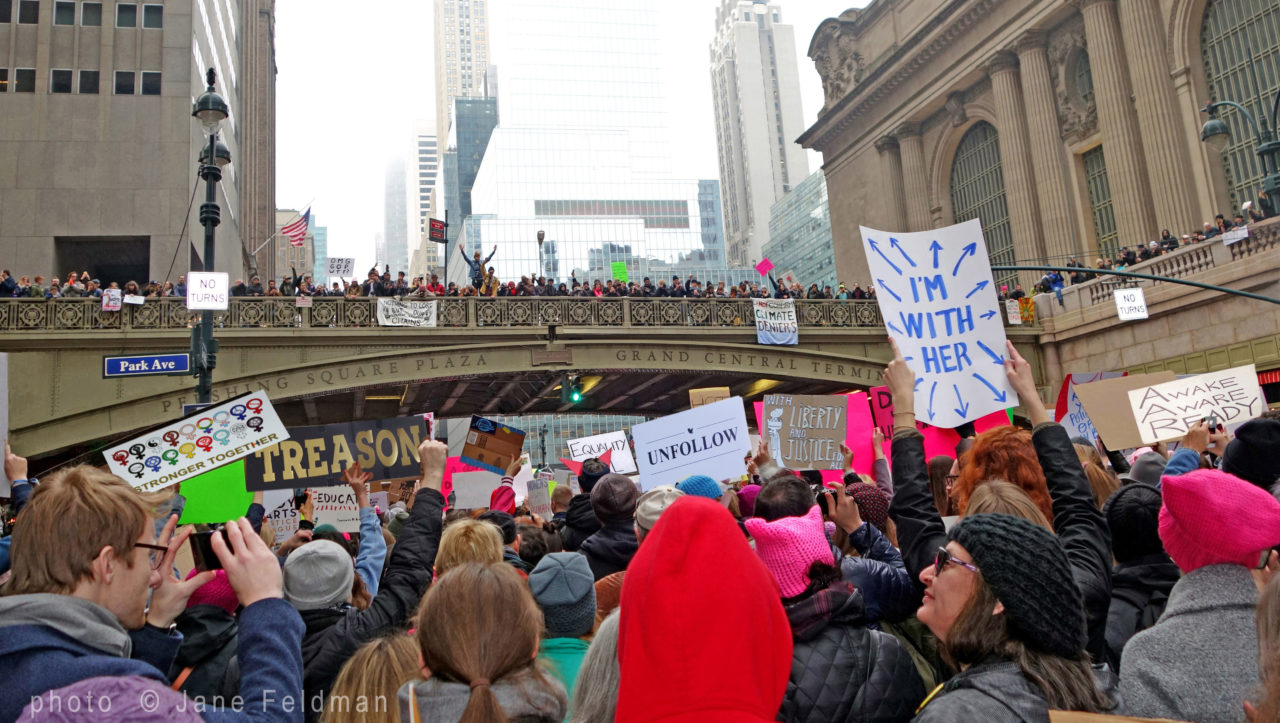 In the days leading up to January 20, 2017, heretofore and henceforth and forevermore (at least in the annals of Il Cheeto) known as the National Inauguration Day of He of the Best Words and the Best People and the Best Ideas, the Really Terrific Ideas, many of us were mired in disappointment, anger, sadness, even dread. Or a combination of all of the above. We weren't sure how we would get through the day, let alone the next four years. But there was one small glimmer of hope: the Women's March on Washington the next day. For me, this event wasn't unforgettable just because of the protest itself, but also because of the Women's March protest signs that became emblematic of a major social movement.
The organizers of the DC march and many of its sister-city events insisted that the march wasn't a protest against Trump, and I give them tons of credit for being bigger people than me and maintaining a positive attitude in the face of the political Craptacular Now. But as an individual, I did participate in the march in protest. I also marched in support of equality, human rights, the preservation of freedom and the environment, and too many other issues than will fit in a blog post that people might actually want to read.
I volunteered at my local march—Pittsfield, Massachusetts, a small region that more than doubled its expected turnout at 1,700 people—by documenting it on social media. Helping to record history in this way provided a swift kick out of my funk and gave me a renewed sense of energy, and allowed to connect with people whose paths I may never have crossed otherwise.
All of this was an incredible in-the-moment experience. But as a writer, the protest signs have stuck with me. It's not a surprise that a person who makes her living working with words might have been tickled by seeing them, often larger than life, on banners and posters. But beyond some of the clever wordplay, what's so compelling about the Women's March protest signs is that they represent a wide range of voices—young and not-so-young; every gender and sexual orientation; and an array of backgrounds, cultures, socioeconomic statuses, and experiences. They symbolize people who have been spurred into action to form communities and create change. They give visual, tangible expression to the beliefs and frustrations that many felt they didn't have the chance to share before the election, or who felt that the Electoral College vote silenced their popular-vote voices.
Pittsfield-based artist Crispina Ffrench had the foresight to put out the call, immediately following the march, for people to share their signs as part of an exhibit in her gallery space. She wasn't the only one, but she was so speedy, I'd be willing to bet she was one of the first. And her approach to creating an art exhibit rather than a historical one is what sets hers apart.
March in Motion! Viva la Resistance! opened at Shire City Sanctuary on February 3, and features more than 100 signs made by participants in the Pittsfield Women's March. They run the gamut from hand-scrawled witticisms on plain cardboard to poster prints and hand-painted slogans on textiles and foam core.
March in Motion! also includes two original slide shows by professional photographers Jane Feldman and Enid Farber, who documented the march in their cities.
Feldman, a part-time Berkshires resident, comments, "As a longtime activist and artist, I felt it was essential to document the March. I made a last-minute change of plans not to go to DC, but to document the city I grew up in: New York City. It is the city that truly is an amalgam of humanity—always. And we need the healing now."
Feldman made it a point of photographing the visually arresting posters and banners—and the people who carried them—all day, throughout the march. But when she noticed a "graveyard of signs" at the close of the event, she worried that an important part of a historic event would meet its end in Dumpsters around the city. Once she saw Ffrench's call for sign donations, she got to work on her slide show, and recruited friend and colleague Farber to create an additional video.
The videos bring home the intense emotional charge of the Women's March in a way that posters separated from their makers can't, and elevate March in Motion! from a provocative bunch of banners to a memorable art exhibit. As a whole, the exhibit connects us with people in other places, of other cultures and ideologies, and shows us how they experience events that happen right in their own backyards—even if they might feel planets away.
March in Motion! is on exhibit at Shire City Sanctuary through March 31, 2017; after that, the Women's March protest signs will be donated to the Berkshire Museum, for use in a future exhibition highlighting the ways individuals contribute to shaping society. Call 413-236-9600 to view.
Follow me on Instagram for a look at some of the other signs and the people who participated in the Pittsfield Women's March. Follow Jane Feldman on Facebook or visit her website for more activist photojournalism and portraiture.