Olla Gitana: A Vegan Take on One-Pot Gypsy Stew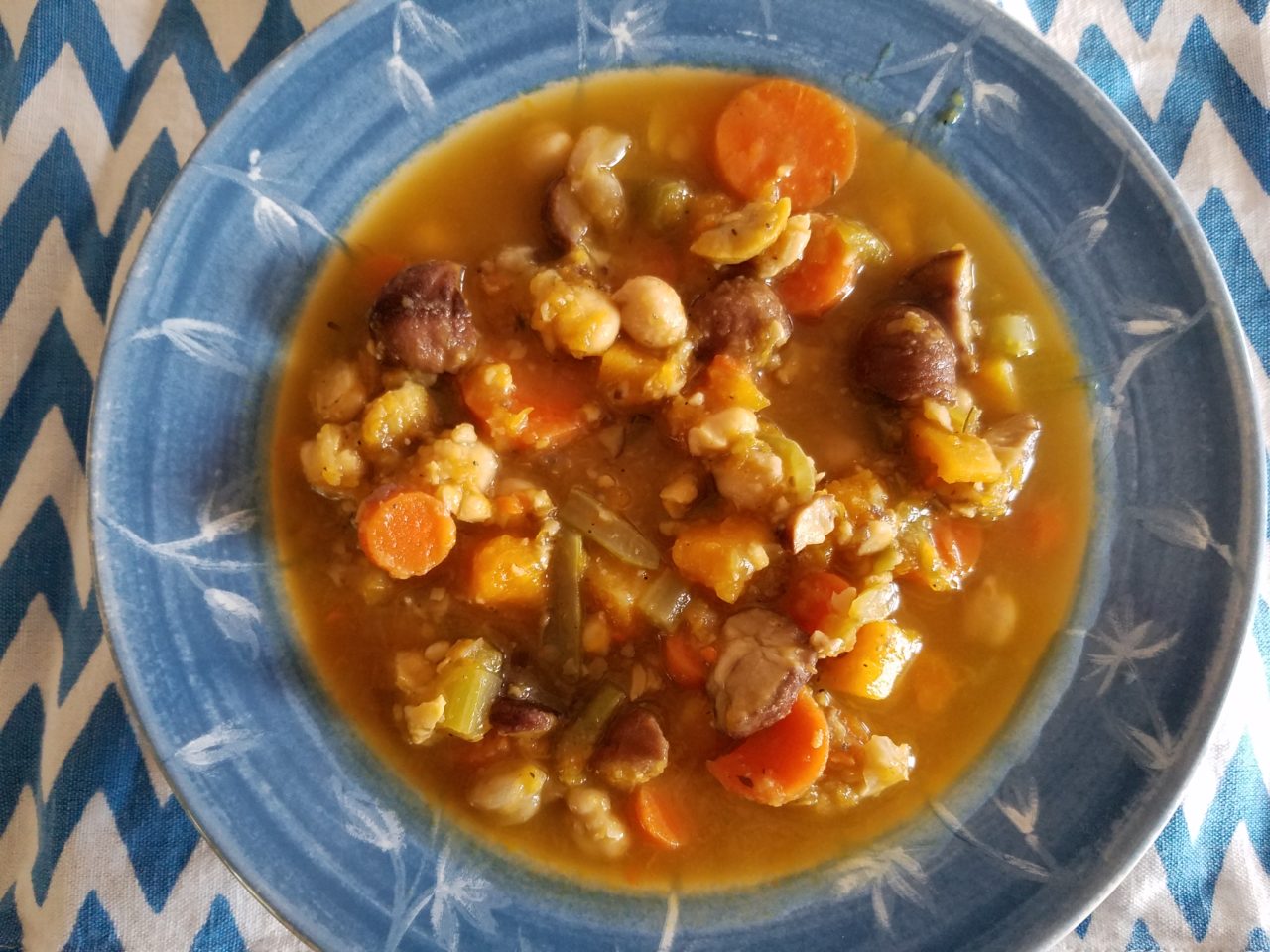 Although I'm mostly vegan, I'm not a picky eater—if it grew in the ground at some point, I'll toss it with spices and other vegetables, throw it on the stove or in the oven, and see what results. I can count on exactly three fingers the plant-based ingredients I won't shovel into my mouth, usually while watching Westworld. Yet for some reason, I get bored quickly with soups; more than a couple bowls in a single week, and I'm ready to trawl the prepared-foods section of Trader Joe's. But on a holiday trip to Spain, I came across olla gitana, a rich, earthy-sweet stew I could eat every week and still find new reasons to love.
Olla gitana, or "gypsy pot," originates from southeastern Spain, between Murcia and the region south of Alicante. Both areas are known for their delicious beans, which figure prominently in the stew. One of those chuck-everything-in-a-pot recipes that sound bizarre on paper but somehow create alchemy on the stove, olla gitana can be made with meat (pork is a favorite of Spaniards) or meat stock, but I think it's pretty fantastic in this all-veggie rendering.
For me, the magic of olla gitana is all in the chestnuts—which, I admit, look a bit wonky floating in the soup. But take one bite of their mild sweetness and creamy texture and you'll see what I mean. This is a serious winter stew—delicious and hearty without breaking the calorie bank—that will be in rotation in my house all season long.
Olla Gitana
4 servings
Ingredients:
1 (15-ounce) can garbanzo beans
4 ounces roasted or recipe-ready chestnuts
1/2 cup frozen green beans
3 carrots, chopped
3 stalks celery, chopped
1 teaspoon olive oil
1 teaspoon fresh mint, chopped
1/2 medium butternut squash, cubed
1/2 teaspoon rosemary
1/2 teaspoon thyme
1 tsp powdered vegetable broth (optional)
Salt and pepper to taste
Instructions:
Place all vegetables and spices in a large soup pot. Pour in enough water to cover. Cook on medium-high until boiling, then reduce the heat to low and simmer until the squash is cooked through.
For a thicker texture, scoop 1to 2 cups of soup into a food processor or blender and puree. Add the pureed soup back to the pot and stir.