10 Questions with Kristen van Ginhoven of WAM Theatre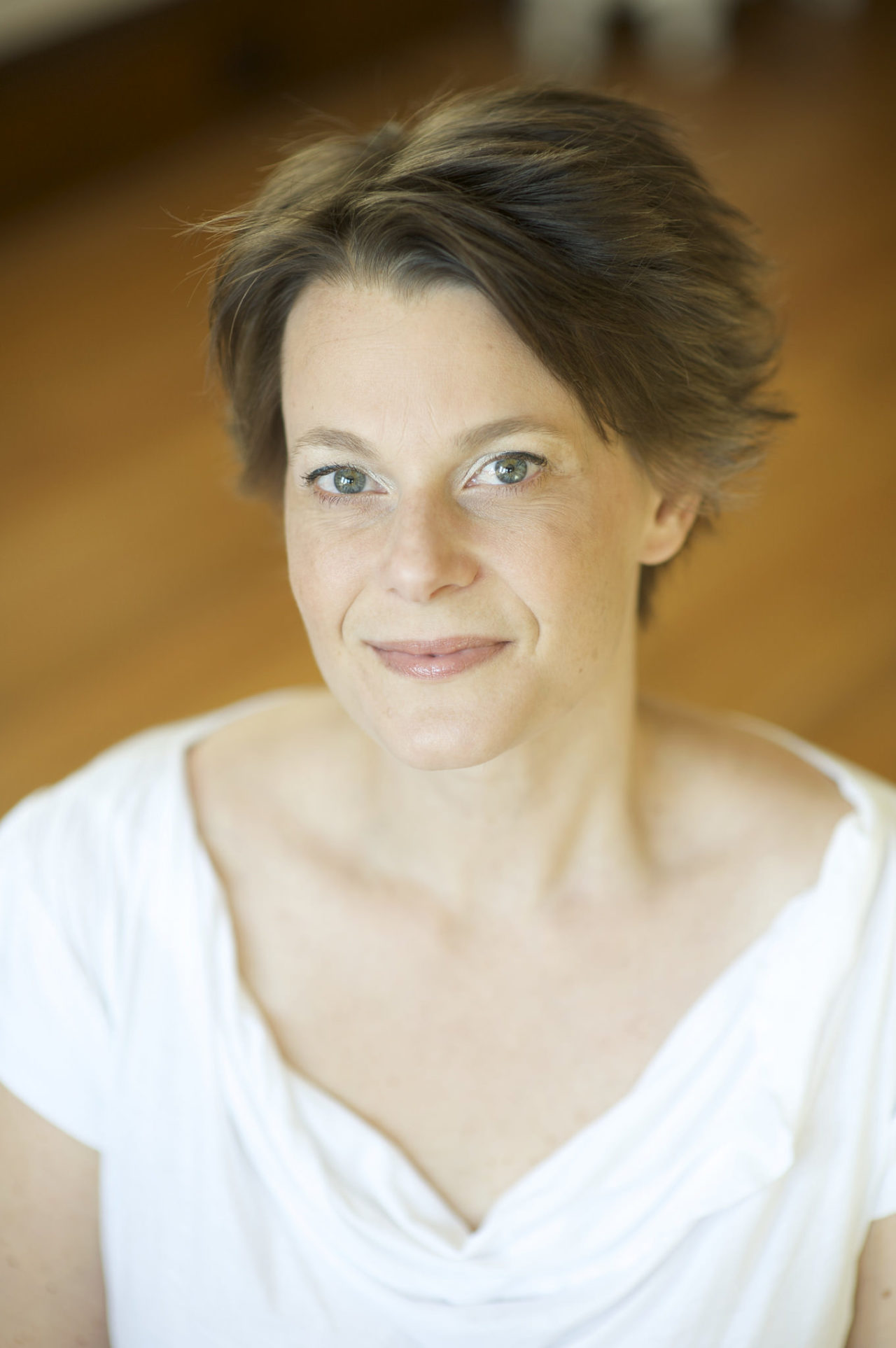 In 2009, after reading Half the Sky: Turning Oppression into Opportunity for Women Worldwide by Nicholas Kristof and Sheryl WuDunn, lifelong theatre artist and educator Kristen van Ginhoven had a lightbulb moment. What if she could apply the same concept of supporting women's rights through economic opportunity to the theatre? She founded WAM Theatre that same year, with the mission of creating professional theatre about the experiences of women and girls, with some of the proceeds benefiting nonprofits who support women's causes, and with all company participants—from the actors to the stage crew and the administrators—paid for their work.
Now in its seventh, WAM employs eight part-time staff members and three part-time teaching artists. With its most ambitious spring season now under way, van Ginhoven took advantage of a recent snow day to answer some questions about running a nonprofit with an unusual double-philanthropic model.
Robin Catalano: WAM is now in its eighth season! What has changed the most? What have been a few of its biggest accomplishments during that time?
Kristen van Ginhoven: I can't believe it's already been 8 years. It's just amazing. It was all so new to me when we started that it feels like the first few years were all about figuring out what it means to run a theatre company and produce plays. I'd say one of the things that has changed the most is our budget. We started with a $10,000 budget and this year we are aiming for over $200,000. That's huge growth. A few of our greatest accomplishments are all around the people we hire and the donations we make to our beneficiaries. Since 2010, when we founded WAM, we have provided contract work to over 200 theatre professionals, and 75% of those have been women. We have also donated over $30,000 to our 11 beneficiaries so far, creating opportunity for things like midwife training, teen pregnancy prevention work, girls' education, and more. We are so proud of those accomplishments.
RC: What has surprised you?
KVG: I'm surprised by how quickly we've grown! While, in the grand scheme of the business world, we are still considered a small nonprofit, I'm very proud of how much we have grown in our first eight years.
I'm continually surprised at how many details are involved in running a business. We became a nonprofit before I really knew much about what that meant. We were a typical passion nonprofit. It was a massively steep learning curve figuring out all that went along with that: taxes, legal ramifications, board of trustees—all of it. Realizing how much business was involved in running a theatre as a huge surprise. I laugh about how naive I was, but back then it was a huge shock. I still have huge shocks when another business thing comes around and becomes part of WAM—like last year with all that goes along with starting a payroll. Who knew?
Finally, our double philanthropic mission has surprised me. It made total sense to me when WAM started, but it has taken years for people to understand it and to understand why supporting WAM means you are creating jobs and creating opportunity for women and girls. Some people get it right away, but for others, it takes longer—it's not an easy two-minute elevator pitch, so that has been something that has taken a while to figure out how to communicate well. We are still working on that!
RC: How many hours do you, as the artistic director, typically work in a week? Is there any particular task that you love…and any that you could do without?
KVG: As a part-time staff member, I am scheduled to work 30 hours a week. Running the company is always on my mind, though, and while I do other freelance jobs, usually directing and teaching, throughout the year, if I'm honest, I consider WAM my full-time work with the part-time paycheck. 
Tasks that I love are team meetings. We have monthly meetings and it's always wonderful to see each other and hear about what everyone is busy doing. I'm always amazed by how much everyone does and how much gets done each month, even as a small, emerging company with only part-time staff! I also love building relationships with actors, directors, playwrights, stage managers, and other artists who we hope we can hire in the future. I love representing WAM at community events, conferences, and speaking engagements. I really enjoy meeting our donors and volunteers and building relationships with them, and I'm getting better and better at fund-raising, which I've spent a lot of time learning how to do. I love finding a great play! I love preparing to direct plays. I love directing plays. All the stuff that is typically part of an artistic director's job.
Because WAM is still growing, I also oversee all the operational aspects of WAM. Learning about payroll, workers' compensation, contracting, insurance—that whole side of running a theatre that is the "running a business" part. I'm lucky that I'm very detail oriented and organized, but what I often say is that I would love to just be the "forest" person at WAM and think big picture and vision. But for now, I still have to also be the "tree" person and think about all the never-ending details.
RC: You've had a lot of involvement from prominent actors, playwrights, and theatre artists. Was it hard to get them on board with WAM, and is it easier now that you've been around the block a few times?
KVG: First, nothing is ever easy. 🙂 But, that said, it always takes one person to get stuff going and for me, it was [House of Cards costar] Jayne Atkinson.  I was connected to her by a theatre colleague in the Berkshires, and she and I really got along. She loved our mission and we have stayed in touch ever since. She remains on our advisory board and is incredibly supportive of WAM. Through her, I've been able to get connected to a few other high-profile people, who have also been advocates for our mission. I met Debra Jo Rupp through another colleague, and she has also been a real advocate of our mission. Like with anyone, if WAM's mission speaks to them, they are on board.
RC: You do a lot of outreach and public speaking. What effect does this have that traditional/digital marketing or advertising don't?
KVG: Personal relationships. When I speak about WAM, my passion for the company and our mission is clear. People respond to that. They respond to my passion, my excitement about our accomplishments, my vision for the future impact we can have on our community in the Berkshires and around the world.
RC: How many professional networking groups do you belong to, and how does participation in them benefit your business?
KVG: I am the Co-Vice President of Programs for Berkshire Business and Professional Women. I joined a few years ago. I enjoy going to the monthly meetings and meeting businesswomen in all kinds of areas. As I was finding my own feet as a businesswoman, BBPW was a great way to meet people and own that new role for myself. I have made lovely friendships and connections with other members, and it has helped keep me connected to what's going on in our community around women and girls.
RC: Other than the ever-present need for funding, what are the biggest challenges facing WAM today? What's your approach to managing them?
KVG: I always say that WAM's greatest opportunity is that there are still so many people in the Berkshires who don't know about us. There's lots of room for growth in that area still.
But the greatest challenge facing WAM is that we have to do all the same stuff that every other nonprofit does, but we have to do it with 7 part-time staff members, some of whom do only 20 hours a month. So I manage that by trying to be realistic about how much WAM can do . . . but that doesn't always work, as WAM is nothing if not ambitious! For example, this spring, we are doing a full mainstage production in the spring for the first time (our remount of Emilie), and we also have our WAM Education Girls Ensemble program in session and are taking a theatre trip to Atlanta, plus taking their show on tour to Berkshire schools. This is on top of all we already do in the spring to prepare for our Fresh Takes play reading series, summer benefit, and fall mainstage production. So this spring is really over-the-top for us and we'll all need an R&R day when April rolls around!
We don't want to do any more than we're currently doing, but we want to pay all the people working for us more. That's a hard sell. So we have a detailed strategic plan that will hopefully help us get there and an engaged board who is working with us to do what we can to balance it all out.
RC: Did you ever have a moment where you thought "This is too hard" or "I'm done with this"? How did you work through it?
KVG: Every. Single. Day. Big-time YES to that question. I've heard from so many people who are building their own business that they feel that often.
I work through it in different ways. Sometimes I give in to it and take the rest of the day off. I work really hard on self-care—getting enough sleep, prioritizing exercise, eating well, taking the time I need for myself and my family.
I also often manage to talk myself down by reminding myself how lucky I am to be doing this with WAM. I have this incredible opportunity to work in the theatre every day, which I always wanted to do, and create opportunity for women and girls, which I'm very passionate about. I founded WAM, so I brought this on myself. 🙂 I'm an entrepreneur and a philanthropist—that's pretty amazing! So, yes, there is a ton of stuff I don't want to do. I often think "This is too hard," but I don't have to be doing it; I chose it.
The third way I work through it is I ask myself, What else I would do? What other job would I do? For now, running WAM, building WAM, achieving my potential as a leader, and creating as much opportunity as I can for women and girls, in the theatre and outside of it, is what I want to be doing. It feels right. As long as I balance that incredible challenge with lots of time to unwind and recharge, it's mostly ok. I'm very lucky.
RC: Would you say that WAM's mission is even more relevant now, considering the political climate?
KVG: Yes. Definitely yes. Oh, very much yes.
RC: How do you creatively recharge?
KVG: I'm an introvert, which surprises people sometimes, but it's true. I'm a learned extrovert and can be "on" when I need to be, but it means I need lots of time on the other end to recharge. So, I spend lots of time on my own or with my husband. We love to walk. I love to exercise. I love to take baths. To sit by the fire reading with a nice glass of wine in my hand.
I also am lucky to be involved with ISTA, the International Schools Theatre Association. I've been a freelance artist with them since 2005. Each year, I get to go somewhere awesome in the world and spend four days at an international school with other ISTA artists, and we get to create theatre with students from all over the world. It's amazing and it's always the best four days of my year. I just returned from Jamaica, where I was part of the first Caribbean ISTA festival. ISTA is an amazing creative recharge. This year, WAM is lucky to be taking our Girls Ensemble to an ISTA festival in Atlanta, which is incredibly exciting. The best of all my worlds coming together!
Like what you've read? Follow me on Instagram, Facebook, and LinkedIn for more. Learn more about Kristen van Ginhoven and WAM Theater on their website.