Vegan Malai Kofta. Because Meals Are Too Short and Winter Is Too Long.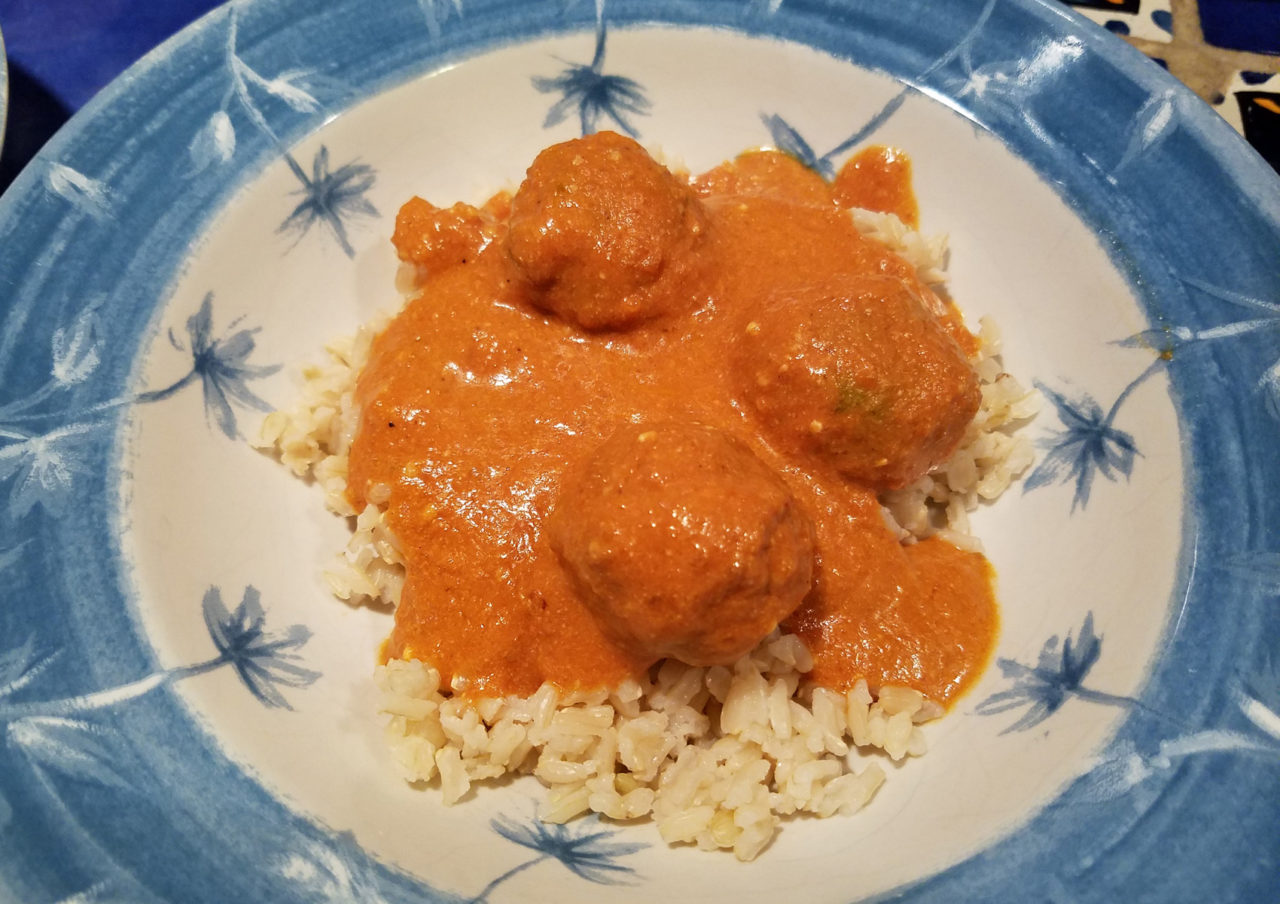 I used to be somewhat indiscriminate about Indian food. Most Indian restaurants—even the ones with run-of-the-mill lunch buffets—passed muster, largely because their food, unlike what you find at a typical American lunch or dinner joint, had lots of flavor. As a vegetarian, I leaned toward classic meat-free dishes like biryani, pakoras, samosas, and malai kofta; non-dairy versions, like vegan malai kofta, aren't readily available in restaurants, as I would quickly learn. Still, I sampled them in every Indian restaurant I could, never really making a distinction between the just-okay and the really good stuff.
A 2014 trip to India forever changed this. For two weeks, I ate authentic Indian food made by Indian hands, which was a far cry from the watered-down version made to please the average American palate. I dined in restaurants, at food stands, at people's homes, and even on a boat. I downed big bowls of soups and stews, dipped an almost unheard-of variety of fried foods in zippy sauces, and ate mashed recipes off a banana leaf. The new flavor combinations and unusual prep techniques were fascinating, and I tried, with each mouthful, to figure out what gave the dish that hint of mystery spice and unusual texture.
One of those dishes was malai kofta. Crispier, more delicate, and fresher-tasting than the type I'd eaten in Stateside restaurants, malai kofta—which originates in North India—is an aromatic and palate-tickling delight. The real deal is made with paneer and heavy cream, which is what makes it so smooth and sweet. But now that I'm mostly vegan, I've been on the hunt for a dairy-free, vegan malai kofta that retains the texture and spice blend of the original.
This vegan malai kofta recipe, adapted from a few different recipes I found online—and found lacking, in one way or another, on their own—isn't the tried-and-true, melty-creamy version I ate in India, but it still has the same character . . . without the digestive upset. Here I've switched out the cream with coconut milk and the fried dumplings with baked ones. (Because these koftas lack the fat content of their paneer-based cousins, they can dry out quickly; be careful not to overbake them.) I prefer to serve it with fiber-rich brown rice and garlic naan, but jasmine rice works well, too.
The naan, however, is non-negotiable. Ba dum bum.
Vegan malai kofta is a welcome dish anytime, but especially during these never-ending Northeastern winters. Because it's full of flavor, a little unexpected yet comforting, and very time- and cost-effective, it's also a great recipe to serve when you have guests. But I never seem to have a problem polishing it off on my own.
Vegan Malai Kofta
Serves 4
Ingredients
For the koftas:
1 large white or Russet potato, peeled and diced
2 carrots, peeled and diced
1 cup frozen peas, thawed
1 Thai or jalapeno chile, diced
2 tablespoons cashews, ground to a coarse sandlike consistency
2 tablespoons ground coriander
1/2 teaspoon salt, or to taste
1/2 teaspoon turmeric
1/2 teaspoon ground cumin
1/4 teaspoon fresh ground black pepper
1/4–1/2 teaspoon chili powder
1/4 cup chickpea flour, or more as needed to thicken the mixture and coat the koftas
For the coconut tomato sauce:
3 cloves garlic, peeled and chopped
1 inch ginger, peeled and chopped
1 tablespoon canola oil
1 teaspoon whole cumin seeds
1 large white or yellow onion, diced
1 jalapeno, diced
1 (14.5 oz) can organic chopped tomatoes, or 2–3 large fresh chopped tomatoes
2 tablespoons cashews, ground to a coarse sandlike consistency
1 can light coconut milk
1/2 teaspoon ground coriander
1/2 teaspoon garam masala
1/2 teaspoon turmeric
1/2 teaspoon paprika
1 teaspoon salt, or to taste
1/2 teaspoon black pepper
Pinch of chile powder (optional)
1 cup water, or as needed
Cilantro, for garnish
Instructions
Preheat the oven to 400 degrees F. Oil a baking sheet, or use place a silicone baking mat on top.
Bring a pot of water to boil. Add the potato and carrots and a pinch of salt, and cook for 10 to 15 minutes, or until easily mashable with a fork. Add the peas and cook 1–2 minutes more. (Alternatively, microwave the potato and carrot on high with a tablespoon of water, covered, for about 5 minutes, until easily mashable with a fork. Add the peas and microwave for 1 minute more.) Drain the water and transfer the mixture to a large bowl to cool.
With a mortar and pestle, mash the chopped garlic and ginger into a paste. In a deep skillet or wok, heat the oil over medium. Add the cumin seeds and cook until they begin to sizzle and become fragrant, 1 to 2 minutes. Add the onion, ginger-garlic paste, and jalapeno, stirring occasionally for 3 to 4 minutes until the onion begins to turn golden. Add the tomatoes and cook for 3-4 minutes more.
Carefully transfer the mixture to a blender or food processor, cover, and blend until smooth. Return the mixture to the pan and add the cashews, coconut milk, coriander, garam masala, turmeric, salt, pepper, and chili powder. Add water as needed to make a thick yet creamy consistency. Turn the heat to low and allow the sauce to simmer.
Mash the vegetable mixture. Add the chile, cashews, coriander, salt, turmeric, cumin, pepper, and chili powder. Stir in as much chickpea flour as needed to bind the dough together. Using your hands, form the koftas into 1-inch balls, then roll lightly in chickpea flour. Space the koftas evenly apart on the prepared baking sheet, and spray lightly with olive oil or cooking spray. Bake for 10–12 minutes until crispy on the bottom. Flip and bake for an additional 10–12 minutes until lightly crispy on all sides. Do not overbake.
Drop the baked koftas in the heated gravy and cover gently with the sauce. Serve vegan malai kofta immediately over rice or with naan.