Lost & Foundry: A Renovated 1880s Factory Serves as the Muse for Basilica Hudson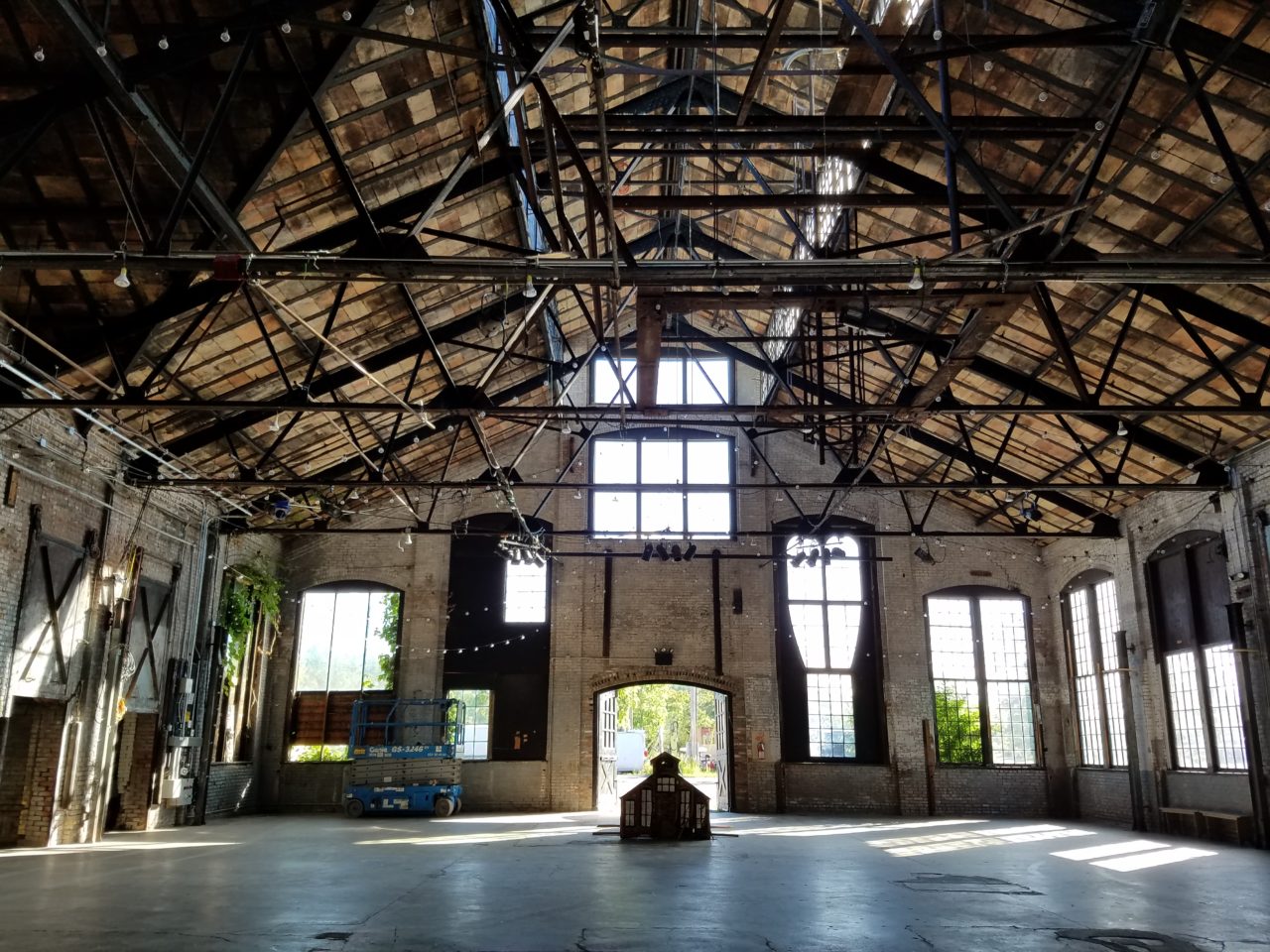 Ask Melissa Auf der Maur about her inspiration for founding Basilica Hudson, an eclectic multidisciplinary arts and events center in Hudson, New York, and she deadpans, "The building made us do it."
The structure in question: a 7,000-square-foot circa-1880 forge and foundry bordered by the Hudson riverfront and views of the Catskills. In 2010, Auf der Maur, a musician with several seminal '90s alternative bands, including Hole and Smashing Pumpkins, and her husband, Tony Stone, a filmmaker best known for his award-winning 2016 documentary Peter and the Farm, were approached by the building's former owner, Patrick Doyle. Doyle had worked for years on stripping the building, which had gone through several iterations, including as a glue factory, down to its bare brick walls, terra-cotta ceiling tiles, steel trusses, and steel-framed factory windows. He believed Auf der Maur and Stone, who had been mounting smaller shows and events in the building, were the ideal stewards for the space.
The couple couldn't say no. "From the beginning, our instinct was, 'Can we help you fill this place with art and music and performances?'" recalls Auf der Maur, a cerebral redhead dressed in a Gunne Sax-style calico and a diaphanous scarf, hair twisted in a braid over her shoulder. "It was a once-in-a-lifetime opportunity." They dubbed their new organization Basilica Hudson, for its central hall's resemblance to a Byzantine meeting place.
Since then, Auf der Maur, who serves as the Basilica's creative director, and Stone, its curator of film and media, have presented a wide range of music, art, and film, plus large-scale marketplaces. From screenings of socially conscious documentaries on topics like the 2014 civil unrest in Ferguson, Missouri, to a 24-hour immersive festival of nontraditional music, rotating exhibitions by local painters and photographers, story slams and literary readings, natural-health workshops, a get-your-freak-on Flag Day celebration, a buy-local business expo, and even weddings, the Basilica is a year-round destination for off-the-beaten path events.
With such a disparate roster, how are artists and events selected? Auf der Maur notes, "We never worry about who will sell the most tickets. It's about who will sound and work best in this space, and about the power of communal experience."
The venue's marquee events are Basilica Soundscape, a weekend-long mash-up of live concerts, conceptual sound performances, literary readings, visual art installations, and curated local vendors, and Basilica Farm & Flea, a twice-yearly "anti–Black Friday" that brings together Hudson Valley farmers, makers, and collectors for a curated marketplace of local foods, handmade goods, and vintage items. All events at the Basilica, no matter the theme, are refracted through the off-kilter lens of the building—an icon of an industrial revolution gone and nearly forgotten—and its civic-minded founders.
"These small cities are the future of America," Auf der Maur, a native of Montreal, explains. "Artists are leaving the big cities; there's no place to create anymore. In a city like Hudson, there's freedom to do risk-taking things, and a community that appreciates it." She credits Tiffany Martin Hamilton, the city's first female mayor, with serving as a bridge to making a variety of improvements and helping to leverage private donations and tourism dollars to bolstering the revival of the once-struggling city.
In the spirit of inclusiveness and providing community access to the arts, the Basilica Hudson team has worked to develop diverse and socially conscious programming, from documentary screenings on subjects like Syrian refugee camps to social and networking meetings on a range of hot-button topics. Through a collaboration with Kite's Nest, a nonprofit learning resource center, they provide educational programs for youth of all cultural and socioeconomic backgrounds, as well as the Social Justice Leadership Academy, a five-week summer leadership training for teens. The Basilica also hosts other local nonprofits for a variety of events, both in the Basilica's towering indoor space and in its nearly 10,000 square feet of outdoor spaces.
With its designation as a nonprofit last fall, Basilica Hudson can now apply for grants that will allow it to expand its vision and its programming to better serve the local community. In the future, they'd like to add a sculpture park, an outdoor performance space, and a movie theater. In the shorter term, the creative team is working on a grant for a site-specific artist's residency that will connect the city's history with its present and future. Grant money will also allow Basilica Hudson, which is something of a best-kept secret north of the city, to develop a marketing and fund-raising strategy, all with an eye toward attracting new crowds and sustaining the organization well into the future.
In addition, Auf der Maur has dedicated herself to the fight to protect Hudson's waterfront from expanded industrial activity that could negatively impact the many creative businesses and organizations that have developed nearby over the past decade. By taking an active role in the community group Hudson for Hudson and by partnering with groups like Scenic Hudson and Riverkeeper, she's making her voice heard on topics like opposing new proposed barge-anchorage sites for vessels that carry potentially hazardous waste, and holding the EPA and GE accountable for the millions of PCBs dumped into the river between 1947 and 1977. "All of us citizens have to be active in politics, and try to make changes locally first," she points out. "If we can't make Hudson a great place to live, where can we make great?"
For Auf der Maur and Stone, it all comes back to their muse, the extraordinary Basilica space. "We're endlessly inspired by the location, as well as the artists and the people who come here," Auf der Maur says. Every year, we learn something new about our community. We're actively trying to address concerns that aren't being served. It's really more than arts and culture. We foster community."
The print version of this article originally appeared in the September 2017 issue of Berkshire HomeStyle.